29 SFX CONVERTIBLE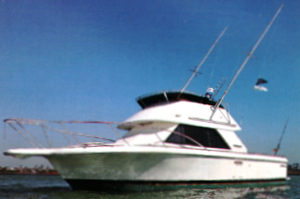 In a word, one of the biggest benefits of the Phoenix 29 SFX is 'flexibility.' If you're in the market for a 29 footer with two distinctly different interior plans to choose then look at the Phoenix 29 SFX. The Interior Plan 1 is a six sleeper and Interior Plan 2 is a four sleeper with a family sized galley. The freshness of styling and the many unique features of the 29 SFX are reflected in the spaciousness of the interior and distinctively created flybridge.
Among the extensive standard features and equipment on the Phoenix 29 SFX are a transom door and gate; all welded, anodized aluminum rails; integral molded fiberglass bow pulpit; sea cocks; Phoenix Marine's custom, heavy duty, molded rubrail; hi-tech, lightweight fiberglass construction; tinted safety glass cabin windows and the revolutionary air induction system for the flybridge and cockpit pioneered by Phoenix.
The Phoenix 29 features a hull that reflects refinements in Phoenix Marine's already proven hull design offering lateral stability and efficiency of operation unique to boats this size. A broad selection of engine options provide the speed and performance from either gasoline or diesel engines demanded by today's fisherman or cruiser.
After fishing many tournaments and cruising thousands of miles, Phoenix engineers have developed a flybridge that is both practical and comfortable providing a commanding view while underway or while fighting a fish. The 29 SFX's flybridge reflects the upscale thinking of the rest of the boat and its straightforward design provides easy access to all instrumentation and electronic equipment Functional features of the flybridge include a recessed venturi windshield, built-in electronics modules and abundant storage.
Phoenix Marine's attention to detail is mirrored in the way that the one piece aluminum bow rail is mounted outboard of the gunwale allowing the practicality of unencumbered access to the foredeck as well as providing a sleek modern appearance.
The availability of diesel power, optional auxiliary generator and air conditioning makes the Phoenix 29 SFX ideal for extended cruising or tournament fishing in big boat style.
Designed by BUC Web Services. © 2000 - 2001 BUC International Corporation - All Rights Reserved.